DANALOCK - Estimote Beacon for Dana Smartlock V3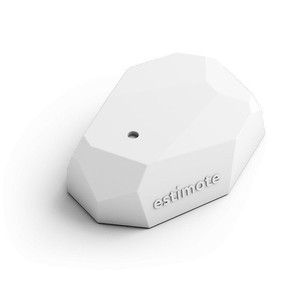 ---
Danalock - Estimote Beacon for Danalock V3
Bluetooth transmitter Beacon optimises the auto unlock function of the Danalock. The Beacon transmitter that is positioned near the Danalock, acts as the trigger for the auto-unlock function. If a user approaches the front door, the "Danalock Germany" app (for iOS and Android) recognizes the Beacon on the smartphone and then sends the command to open the door to the Danalock. If necessary, the Tap-to-Unlock function can also be activated in the app: the door will only be opened after the user has confirmed this.
FEATURES:
- Communicates via Bluetooth® LE (v. 4.0)
- RF Range: approx. 70 meters
- IFTTT compliant
- Danalock compatibility: Danalocks V2, V3, Universal module V1, Universal module V2
TECHNICAL SPECIFICATIONS:
- Protocol: Bluetooth
- Device Type: Proximity Beacon
- Nominal Voltage: 1x (3.0V) Lithium CR2477 battery
- Operating Temperature: 0°C ~ 50°C
- Protection: IP20
- Dimensions (L x W x H)mm: 55 x 38 x 18
- Color: White
ABOUT US
I2G is a long time retail seller of smart home automation systems, security and access control systems, entertainment electronics products and more. We specialize in Z-Wave home automation systems and offer both pre and post sale advice to our customers. If you are looking to buy a larger quantity of items, contact us and we will give you a quote.
SHIPPING AND HANDLING
We offer both standard and express shipping options. For standard shipping we use Post of Slovenia and for express we use either DHL Express or DPD. All forms of shipping come with tracking numbers. Our handling time is 1-day, with the exception of a few items which require a 3-day handling time.